Misija, vizija i vrijednosti
COmplianceom Do Uspješnog POslovanja!
CODUPO Compliance promiče izvrsnost u poslovanju i pomaže organizacijama uspostaviti visoke standarde poslovanja. Specijalizirani smo za područje usklađenosti i integriteta u poslovanju. Vrijedna znanja i iskustvo prenosimo menadžerima i voditeljima funkcije usklađenosti u cijeloj regiji.
Professional Evaluation and Certification Board – PECB recognizes that CODUPO Compliance is officially approved as Authorized Silver Partner for 2022.
Specijalizirani smo u pružanju usluga savjetovanja i edukacija u području usklađenosti, etike, integriteta i antikorupcije. Nudimo na jednom mjestu sve što je potrebno za izgradnju učinkovitog programa usklađenosti i razvoj integriteta u poslovanju.
CODUPO Compliance nudi sve što vam je potrebno za učinkovit program usklađenosti i etike na jednom mjestu!
A ONE STOP SHOP FOR COMPLIANCE & ETHICS!
Naša želja je biti pouzdan partner koji svojim klijentima osigurava dodanu vrijednost i pomaže im uspostaviti visoke standarde poslovanja.

Naša misija
Poticati poslovnu izvrsnost i visoke standarde poslovanja.
Naša vizija
Biti pouzdan partner koji pridonosi ostvarenju Vaših ciljeva.
NAŠE VRIJEDNOSTI određuju našu kulturu i čine razliku onog što radimo i kako to radimo.
Vođeni smo najvišim standardima u poslovanju.
Koristimo kreativna rješenja prilagođena Vašim potrebama.
Nastojimo biti najbolji u svemu što radimo.
Vodstvo
dr.sc. Silvija Vig, osnivač i direktor
Međunarodni stručnjak u području usklađenosti, bihevioralne i poslovne etike, anti-korupcije i integriteta
CCEP-I – Certified Compliance & Ethics Professional – International
LPEC – Certified Leading Professional in Ethics & Compliance
Certified ISO 37301 Compliance Management Systems – Lead Implementer
International Trainer for ISO 37001 Anti-bribery Management Systems – Lead Implementer & Lead Auditor
Autorica knjige POSLOVNA ETIKA – novo dopunjeno izdanje izlazi u ožujku 2023.!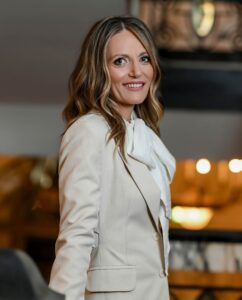 in
→ Više…
Konferencije
Speaker at OECD conference Fair Market Conditions For Competitiveness – Croatia, November 2022, Presentation Of Key Project Outcomes And Preparation Of Further Action, Zagreb, Croatia.
Panelist at the PECB ANTI-BRIBERY CONFERENCE 2022, organized by PECB Canada, February 2022, FCPA and its Success on Combating Corruption inside and outside the US. (Link for watching the session: https://youtu.be/MxXXvXxnxPk?list=PL0WWRwxCQbr49k6cC9NOc1F8hMu-jgwjD&t=2406)
Speaker at the Compliance in Banks Week 2021, Serbia, May 2021, organized by Association of Serbian Banks, Beograd, May 2021, "What is the Role of Ethics in Compliance?"
Hosting IntegrityUP Training, February 2021, Build your integrity on an individual and organizational level! for UN Global Compact Local Network representatives around the Globe
Speaker at the 3. ANNUAL WOMEN IN FINANCE CONFERENCE, Zagreb, organized by Women in Adria, November 2020, "CFO as a Leader of Ethics in the Company"
Speaker and panel moderator on the International Fraud Awareness Week 2020, organized by Deloitte Croatia (November 2020). Host at the virtual event organized in cooperation with EBRD "How to Gain a Competitive Edge in a Global Marketplace" and moderator of the panel discussion "Business ethics and its value in current times".
Speaker and panelist at the 6. ANNUAL BLED COMPLIANCE AND ETHICS CONFERENCE, Slovenia, October 2020 (Topic: How to Manage Compliance and Ethics Risks Imposed by Senior Managers? What Makes the Difference between the Good and the Bad Ones?)
Speaker on the webinar "How ethics and compliance interact, and what if one exists without another?", Center for International Private Enterprise – CIPE, Washington, USA, June, 2020
Speaker and panelist at the SCCE' s Regional Compliance & Ethics Conference, Sarajevo, Bosnia and Herzegovina, September 2019 (Topic: Integrity in the Spotlight)
Participant on the CIPE Partner Meeting on the topic "Support for Ethical Business Practices in Europe and Eurasia", Kyiv, Ukraine, November 2019
Speaker and panelist at the Slovak Compliance Days 2019, Bratislava, Czech Republic, November 2019 (Topic: Integrity -The Secret Ingredient You Should Be Adding to Your Compliance Program)
Panelist and facilitator of the round table discussion on the 3rd ANNUAL GLOBAL ANTI-CORRUPTION & COMPLIANCE FORUM AND HACKATHON, Berlin, Germany, December 2019
Panelist on the International Fraud Awareness Week organized by Deloitte Croatia and other partners at the Visoka poslovna skola PAR on topic "Women against corruption", Rijeka, Croatia, November 2019
Panelist in the Discussion with highlights on Challenges and Opportunities in Implementing Integrity Principles in an Organisation, presentation of 5-Star Integrity Leadership (5STIL) Manual for Managers in Ljubljana organized by EISEP, in cooperation with the Managers' Association of Slovenia (MAS) and supported by the US Embassy in Slovenia, Ljubljana, Slovenia, November 2019
Speaker and panel facilitator at the conference "Implementation of Compliance and Ethics Programs in Business Systems", Zagreb, Croatia, May 2018
U medijima
Meet the Trainer — Silvija Vig
---
ISO 37001 Lead Implementer eLearning Training Course
---
ISO 37001 Lead Auditor eLearning Training Course
---
Foreign Corrupt Practices Act and its success in combating corruption inside and outside the US
---

---